Home

About

Icons

Reviews

Manga

Lists

Guestbook

Gallery

Links Out
Manga Journal
A brief explanation: I have a very poor memory, so I can only read manga on a weekly update basis if I keep careful track of the plot points. I'm going to use this page to write small summaries and thoughts about the chapters I read. Spoilers are unmarked, so tread carefully.
Current series:
Chainsaw Man (CSM)
Fukakai na Boku no Subete o (Fukaboku)
Hunter x Hunter (HxH) (like it'll ever update anyway...)
Kuroshitsuji
One Piece (OP)
Chainsaw Man: Chapter 94
November 26, 2020
I'm a bit late to reading this one but, meh. It was a pretty boring chapter anyway. Mostly fighting. One of the things that I don't love about this series is that the fights are so bloody and all-over-the-place that I often can't even tell what's going on. All I'm really interested in at this point is seeing the emotional impact of Denji and Makima's final showdown, but Fujimoto seems intent on stalling that for as long as possible.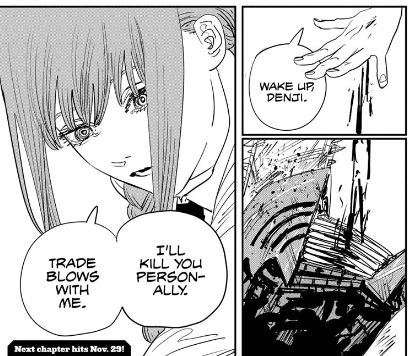 Fukaboku: Chapter 24
November 20, 2020
Finally, full-spread Halloween outfits! Which of course, I am already adding to my wardrobe page.
I respect the fact that Konayama had managed to make me care about Sakura and Mogumo's relationship so much considering how much of a bitch Sakura seemed to be at first. Seeing her eat made me happy. Aaaaaand... Mogumo's ketchup drawing was very funny.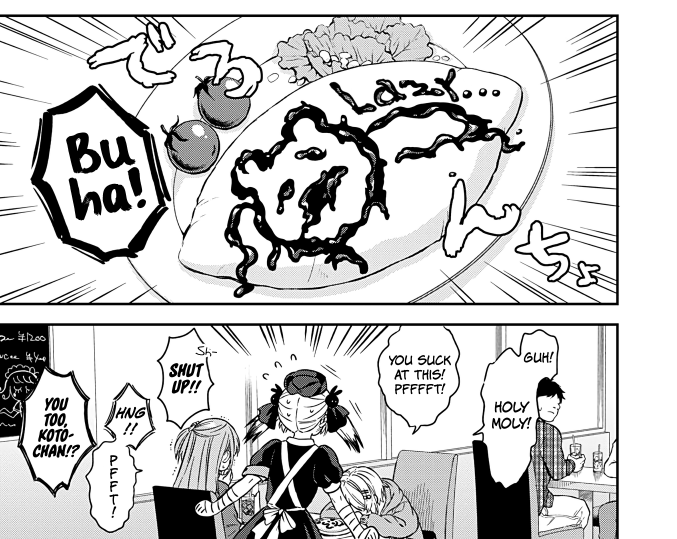 Mei hasn't been a very prominent character lately, so I was pleasantly surprised to see her play a role in this chapter. Her and Mogumo's hug was incredibly sweet.
This is a generally positive manga, so I know that everything is going to work out in the end, but just the prospect of Mogumo talking to their douchebag dad is nervous-making. I'm always wary of abusive parent narratives because they tend to either lack nuance entirely or provide the parents with undue sympathy. I guess I'll just have to wait to see how Konayama handles things.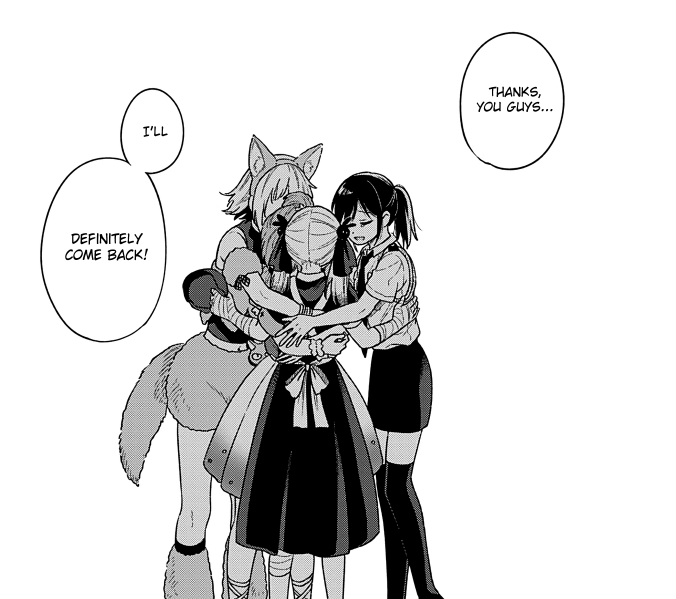 General Update
November 20, 2020
So, funny story... about two years ago now, I decided that pssh, I didn't need a stupid website page to remember the manga I read! And I... was wrong! Whaddya know. When I was trying to catch up on One Piece the other day I realized that the last chapter I clearly remembered was also the last one I had journaled, and finally put two-and-two together. So we're going to try this again! I've started a few new series, I've dropped SNK, and I'm currently behind on One Piece and Kuroshitsuji. I also probably won't be writing about Yotsuba anymore, because it's episodic and I don't really need to keep careful track of its plot (especially considering how much reread value it has).
SNK: Chapters 109 & 110
October 20, 2018
I finally pulled myself together and caught up again... major shoutout to this post for helping me review what exactly is going on, because most of the stuff with Hizuru had gone completely over my head.
I think that chapter 109 is yet another example of how Isayama struggles with pacing, specifically regarding character development. I like Louise and Kaya a lot, but having their entire personalities and backstories set up in the span of one chapter is pretty disappointing. If we had gotten even a small scene before the timeskip showing that Kaya was now a part of the Braus family or Louise admiring Mikasa as a new recruit, their roles in this chapter would have felt significantly less abrupt.
On the other hand, I'm super excited that we're finally getting a real conversation between Zeke and Levi. I'm really interested in their dynamic. Also, Pieck! and Eren in a longcoat against the sunset! This truly is the chapter that keeps on giving.
I'm probably going to get to work reading some of the spinoffs now, I may or may not be entering hyperfixation territory, all I know is that I really want more character drama and I'm not willing to wait another month to get it.
OP: Chapter 921
October 19, 2018
I've pretty much given up on this log thing considering how far behind I am on every series except One Piece, and the fact that the Wano arc has been boring me lately and I don't really feel like I have anything to say about it. I'd like to try to get back into the swing of things, and maybe catch up on SNK and Kuroshitsuji when I find the time as well.
I'm drooling over the outfits in the color spread. Not as excited about Chopper being there, but c'est la vie.
Nami's continued excitement over the prospect of being a ninja is still really adorable. I really like it when Oda lets her be kind of quirky and excited instead of just being the straight-man/babysitter for the rest of the crew.
Carrot's cuteness level in her kunoichi getup was almost too much for me to handle. Nami, on the other hand… aside from the obviously irritating nature of putting her in such a revealing outfit, it seems kind of stupid to make her self conscious about her cleavage when she regularly wears just as revealing clothing of her own free will. I feel like someone came up with a name for this specific type of fanservice, the kind in which the revealing clothing is forced on a woman against her will because apparently having a modest personality is sexier or whatever, I don't remember the term but I do know that I hate it.
I don't really care about power levels or villain abilities (they're all going to be defeated anyway so who cares) but I think that Oda's artistic talent really shines through in his drawing of Kaido. I also like dragons.
SNK: Chapter 107
July 7, 2018
Yes, it's finally here.
Okay so, right off the bat, we've got Hanji vocalizing practically everything the readers have been wanting to say to Eren after the last chapter. Throw in a remark about his abs and she'll have all the bases covered.
It's no secret that I've never cared for Mikasa's development as a character. She's immensely popular despite having rather a weak arc as a member of the main cast. But I'm actually kind of happy to see that she's getting a role in the story aside from just being protective of Eren, which often seems to be her only personality trait. Maybe I'll actually be able to like her again.
It's so nice to see Historia happy, even just for a moment! But it also seems to me like she's happy for a kind of upsetting reason…. it's almost like she's glad to see Mikasa burdened with her birth as well, because it makes her feel less alone in the world. Which sounds kind of selfish, but is also really understandable. God, I really love her character so much.
I am still very interested in the prospect of seeing Historia as both a titan and a mother but it really breaks my heart to see her go through all of this… I just want to give her a hug.
Actually, it looks like Hanji needs a hug too.
More mourning for Sasha as well… Connie is really twisting the knife here, the whole "I feel like I've lost a part of myself" speech was pretty tough to read. When Sasha first died, I feel like I was a little detached from the event, I was sort of in a headspace of "well that sucks but all my faves are probably going to die so I might as well get used to it." But seeing the other characters react to the incident is making me realize how much I really liked her character and how much I'll miss her.
I'm not sure how to say this but Gabi and Falco's escape seemed a little, well… stupid. I guess I have higher standards at this point for Isayama's writing, because this seemed like incredibly lazy writing. There was really only one guy watching them? How did they get out from the basement and through the door without being noticed, especially in a huge fortress like that? There were no locked doors? No lookouts? And what exactly are they supposed to do now, just wandering around in the middle of nowhere? This entire scene was just so rushed and unrealistic, and it's been bothering me a ton.
OP: Chapter 910
July 7, 2018
The crew is back… Carrot is back… I'm feeling pretty good about this arc right now.
Sanji's creepy, but Chopper cutting Kureha out of Nami's newspaper was cute I guess. And the thing with Luffy and the transponder snail was hilarious.
Nami's new outfit is cool I guess? I can't tell if those are supposed to be roses or shells but at least it's not another bikini top.
I love how the waves and trees are actually being drawn to resemble traditional Japanese painting. It's the little details like this that make all the different locations in One Piece so submersive.
Uhh, I hope the crew doesn't stay separated for too long… we've had enough of that already.
Finally, here's the return of the Carrot cuteness corner! I'm so glad she's back again…
OP: Chapter 909
June 30, 2018
And so, the Wano arc begins!
As of right now, I have very little interest in Marco as a character. He doesn't seem to have much of a personality, and he has hax powers.
On the other hand, I do still like Nekomamushi a lot!
I'm very excited about the Wano setting, for two reasons: 1) I like historical settings and 2) I like pretty girls in kimonos! Speaking of which, Robin looks stunning.
I still don't particularly care for Kin'emon or Momonosuke, but seeing some of the crew again has completely revitalized my interest in the series. I love seeing them up to their usual antics in a new setting where they have to adapt. Usopp being a conniving salesman is especially fitting.
OP: Chapters 107 & 108
June 16, 2018
I've been getting lazier and lazier with these posts ever since Carrot stopped getting screentime (pagetime?)
It's not that I'm not interested in what's happening, it's that all my thoughts always seem to amount to "oh cool I haven't seen that guy in a while :)" and it gets tedious to write about. The problem with chapters like this is that there's so much going on, which can be fun, but also comes across as a bit clunky. And this sudden development of a single person being the "ultimate leader" behind the world government feels unrealistic and pretty far out of left field, especially considering we still know next to nothing about the five elders.
So yeah, these past few chapters haven't been jiving with me. I hope that we get to see the crew again soon.
SNK: Chapter 106
June 8, 2018
It's good to see Hanji's quirky side again. Hanji kind of shifts back and forth between being an inappropriate goofball and being super serious, and because the story has taken such a serious turn lately, it's nice to see that she still has her humor, even if it's only in a flashback…
I'm already a Yelena fan, mainly because she has such a cute design. We'll see how her character continues to develop.
I'm a big fan of timeskip Eren, but I still love seeing him before his complete transformation… He looks so cute!
As for the latter half of the chapter, it's difficult to even summarize my thoughts on it. It was fantastic. I loved seeing the main cast enjoying themselves again, and the juxtaposition of Sasha's funeral was presented perfectly.
I've been thinking a lot about Eren in the last panel. I think him shaving is definitely symbolic, but that also makes me wonder why he chose to simply pull back his hair instead of cutting it. In addition, the messy water basin below him, the fact that his hair is wet as well, and his lack of shirt makes me think that he was dunking his head into the sink as opposed to just washing his face. Which isn't really a great method of cleaning yourself; it's something you do to relieve stress or clear your mind. Interesting.
Kuroshitsuji: Chapter 140
June 4, 2018
This chapter was painfully short and I don't have much to say about it... I've really enjoyed finally getting Ciel's backstory over these past few chapters, and, like everyone else, I'm eager to learn his real name. It feels like Toboso is just teasing us at this point.
OP: Chapter 906
June 1, 2018
The reverie exposition continues...
Oh dear, it's Rebecca. Yay. I had actually predicted quite a while ago that Rebecca, Vivi, and Shirahoshi would end up meeting and forming an alliance of sorts, but that doesn't make it any easier for me to see Vivi (one of my favorite characters) becoming chummy with Rebecca (easily my least favorite character).
The whole "you're not my type" gag with Shirahoshi was hilarious during the fishman island arc, but its revival has genuinely made me wonder if she even has a type at all...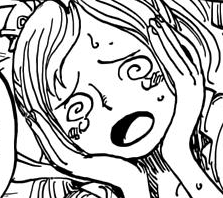 The little "trivia" things were actually really fun and cute. Vivi's even had evil robin Miss All Sunday! Still love that cowboy hat.
Okay, so we get to see some old faces again! I must say that I'm most excited about Kureha. I like her a lot and I wasn't expecting her to tag along.
Lastly: the same-face syndrome was strong in this chapter.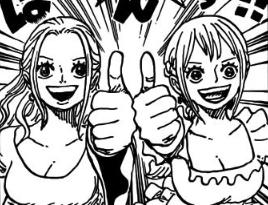 OP: Chapter 905
May 25, 2018
Sakazuki calling Sengoku "semi-retired" was really funny to me for some reason. I really like how he resigned from his position but just kinda stuck around at HQ anyway.
None of the random new royals really stood out too much (there's clearly a "real world countries" theme going on) but the matryoshka princesses were pretty cute.
Can we get a full view of Queen Muroron's dress please? The reverie should be offering us some fancy royal clothes!
So I guess... that's Shirahoshi's definition of a new outfit? I guess the one downside of mermaids is that their wardrobes are pretty limited.
Okay, I still love Garp. He's an old favorite of mine, and I'm glad to see that he's still awesome. It's always funy to me how he manages to act as a foil to Luffy while also being almost exactly like him in terms of personality.
I'm also weirdly starting to like Morgans. It's probably the fun designed partnered with the fact that I really like journalist characters.
Still no reveal on Ryokugyu's design. Not that I really care, he's bound to be pretty boring compared to Issho.
Lastly, Stelly returns, and the government infiltration begins. I'm still not a big Sabo fan, so I'm hoping Koala will get a substantial role in this arc, but I wouldn't bet on it.
OP: Chapter 904
April 11, 2018
It looks like I've finally reached yet another point in the series where I'm actively counting down the days until new updates… it feels good to be so excited about the series again.
I'm really glad to see Iva again. I've missed his character a ton since the timeskip, and I've been looking forward to his reappearance for a while now.
I'm actually not a huge Sabo fan, but it was really cute how he was so happy over Luffy's success that he was lying on the floor…
So, we seem to be getting closer and closer to this ominous "event" that Oda has been alluding to… if it can change the world order even more than the Summit War did, I'm certainly looking forward to it. I find the political world of One Piece endlessly fascinating, and I really look forward to seeing the revolutionaries finally clash with the Celestial Dragons.
Looks like we get some new characters! I have no real thoughts about them at this point, but I do really like the steampunk-style designs. And our new sexy female character is already extremely popular with the fandom, no surprise there.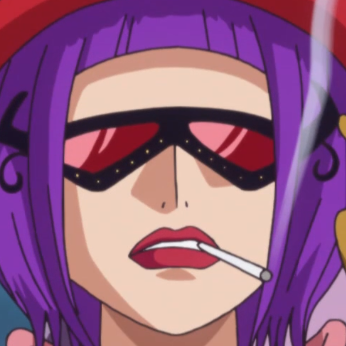 SNK: Chapter 105
May 5, 2018
Oh dear…
That chapter hurt. A lot. Sasha was really the first character I liked in the series, and I'm very sad to see her go. However, I will say that I pretty much saw it coming, like a ton of other readers apparently.
Everyone knows Isayama has been planning to kill off Sasha for a while, and apparently there was that whole fiasco with one of the editors getting really upset about it so he kept her around for a bit longer after Zeke showed up. But since then, it kind of seems like he hasn't really known what to do with her. She gets a scene here and there, but doesn't really contribute a whole bunch to the plot. Don't get me wrong, I'll always love her very much, and I would have loved for her to have a greater role in the story. But I understand that it must be tough to just have to be like "okay, I guess this character isn't dying... so what now?" Sasha's biggest contribution to the series since her backstory has really been as the comic relief, and based on where the story is going... well, it does seem an appropriate time to loose that last remnant of good humor.
I will say that her death felt a bit cheap. Not in her manner of death, which was anticlimactic, yeah, but I'm okay with that; I like that not everyone in the series needs to receive a terribly drawn-out death scene. I just mean that, like... she hasn't gotten an actual scene to herself in such a long time, to the point that I don't think I'd be very sad over her death if I wasn't so active in the fandom (and therefore constantly being reminded of her good scenes from back in the first few arcs.) Especially after getting such a great post-timeskip design, I would have loved to see her get one more scene to herself before kicking the bucket. Well, c'est la vie.
On the other hand, I continue to like Gabi more and more. And no, that's not contradictory! Gabi is a going through A LOT and Eren's group kind of just killed all her friends so seeing everyone hating on her for killing Sasha seems very silly. It's not like she's ever known Sasha as anything more than an enemy; how is that different from Eren (indirectly) killing Zofia and Udo? I personally really love Gabi as a character. Oh, and I'm also glad to see Pieck starting to recover.
OP: Chapter 903
April 28, 2018
Okay, well… quite a lot happened in this chapter. I'll try to address the events in order.
I guess that Nami's slave gimmick is kind of funny, but I really hope that Zeus doesn't become a major factor of either the crew's dynamic or Nami's fighting style. I find his derpiness annoying, and I really enjoy seeing Nami fight, so I'd hate to have him ruin it.
I actually feel genuinely bad for Sanji. I know how much he hates being associated with the Vinsmoke name, so having it on his bounty poster has got to be a bitter pill to swallow.
I suppose the most important thing about this chapter: Luffy finally made it! I was expecting a bounty increase at the end of the arc, but for him to officially become an emperor is a delightful surprise. I love that this manga can always keep me on my toes.
Speaking of which… we haven't see Koby in quite a while! And he finally became a captain. How nice.
Regarding the other characters we got to see… a bit too much focus on Rebecca, who I continue to despise. But I loved seeing Vivi, even for such a brief time.
Carrot's role in this chapter continues to fuel my hope that she could take a permanent position as the crew's lookout. Maybe it's just wishful thinking, but still…
OP: Chapter 902
April 20, 2018
Not much to say about the color spread. It's a little all over the place for my taste, and doesn't really focus enough on the main crew. Maybe if I understood the movie reference I'd like it more.
This was a Carrot heavy chapter, which makes it an automatic favorite. We haven't really seen her interact with Sanji yet, but the way she kept patting his head was so cute!! I'm also relieved that he didn't flirt with her, that lends to the theory that she's younger than the rest of the crew or maybe Sanji just isn't into furries
Well, it looks like Pudding's request turned out to be what everyone expected. Hence, her character arc ends, and I continue to have very mixed feelings about her. I guess it was too much to ask for two properly fleshed-out female characters in one arc, right Oda?
Brulee turns out to be a surprisingly sweet sister character! Who would have thought. I still find Katakuri's "tragic backstory" to be a little tacky, but a strong sibling relationship certainly improves it significantly.
And lastly, hey, it's Zeff! I was not expecting that, although I suppose I should have been considering this arc has been all about Sanji. I like pretty much all of One Piece's mentor characters, so I was happy to see him again. I really appreciate that Oda continues to express this message that being family is about more than blood. It's always been one of my favorite things about One Piece.
OP: Chapter 901
April 13, 2018
This chapter was a bit of a rollercoaster; I started off being upset at the supposed red herring ending of 900, but the chapters direction quickly took a turn for the dramatic and I ended up really enjoying it.
Okay, I LOVE seeing Luffy as a serious captain again. As much as I like his usual silly antics, it's been a while since Luffy has really had to make a tough decision that amounts to more than "I want to protect people." So his conversation with Jinbe and ultimate decision to proceed to Wano without him was definitely my favorite part of the chapter.
This actually leads me to another thing I like, both about this chapter and the series as a whole, which is that running away is treated as a viable option and often a strategic necessity rather than a cowardly cop-out. Luffy is very prideful of course, but he values the safety of his crew over his pride, which is pretty rare in a shounen protagonist. As the crew is now, I don't think they're capable of taking on Big Mom; an escape is not only more realistic, it sets up for even greater conflict in the future.
That being said, I'm very excited for the Wano arc. I know there are still plenty more loose ends to tie up right now and we still probably won't actually see Wano for another year or so, but even seeing Luffy mention it got me excited.
Probably the most impressive thing about this chapter was that I got so into it that the tiny little Carrot shots totally evaded me on the first read. It makes me deeply ashamed, but here they are anyway in all their glorious cuteness.
SNK: Chapter 104
April 9, 2018
Falco defending Pieck was precious. I still hope that she stays safe.
So great to see Hanji again, they're one of my faves.
Warhammer Titan is finally dead for real… that kinda sucks. Would have been nice to have another female titan shifter.
Okay, I'm still unclear how the "eating two titans" thing is going to work… will Eren's titan get a new design? Can he change into two titans seperately, or will his titan form be like a fusion of the two? I'm excited to find out.
I've really been digging Gabi lately. She's quite a delightful balance between cute and hardcore.
OP: Chapter 900
April 9, 2018
I read this chapter over a week ago, but I've been on vacation this past week, so here we are. I'm glad to be home to my laptop.
First of all, great color spread. Chibi Carrot looks so cute!
All I really want to do is talk about the ending, but I'll try to pace myself. I guess the other thing that stood out was Big Mom's hilarious shoujo expression after eating Sanji's cake.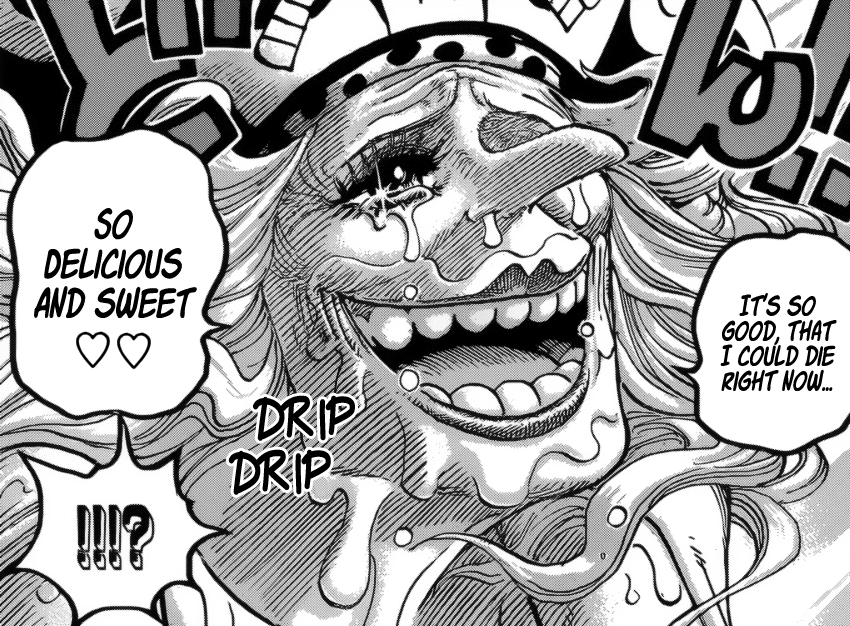 Kind of upset that Pudding doesn't appear to be doing anything, it works against the theory that her "last request" was actually something useful. Oh well. I'm pretty sick of her character at this point anyway.
The cute Jinbe moment made me smile. We don't know that much about his character yet, but he used to be one of my favorites, so I'm hoping he gets some more time in the spotlight. He still needs a tragic backstory!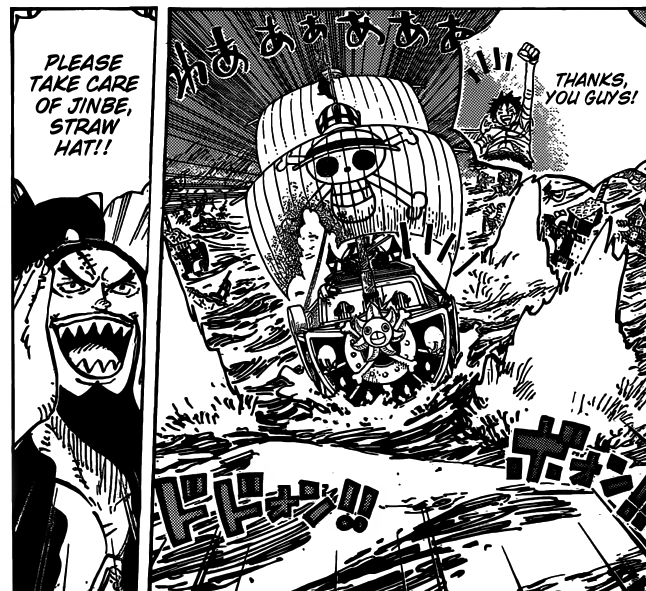 Okay, now let's talk about the ending. What a cliffhanger! The fandom has been driving me up the wall a bit with all their whining though. It seems as though everyone hopes the ending is a fake-out (someone suggested one of Nami's mirages) but I hope the opposite. I'd be really dissapointed if Oda gave us a "sike" moment instead of presenting us with a serious conflict. Of course the crew will survive, but I'd love to see how they deal with the aftermath of such a calamity, forcing them to make an escape and repair the ship. One thing I like about Big Mom is that she's portrayed as genuinely stronger than the Straw Hats, and I don't feel like they have the resources right now to defeat her. I'd like a more realistic recovery arc, similar to what happened after the first Sabaody arc (although obviously without the crew being separated for two years). Anyway, I'm very excited for the next chapter.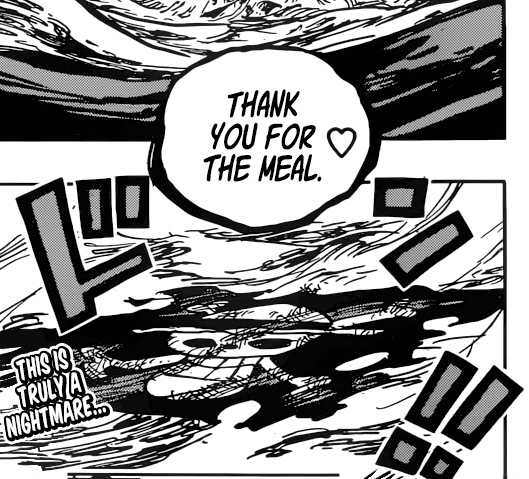 OP: Chapter 899
March 25, 2018
Okay, this was a good chapter. The crew is finally back together, and they got right to being their fun, adorable selves. A lot of good Luffy moments this chapter too!
I'm kind of glad that Oda didn't force some kind of resolution between Sanji and his father. The fact that they're temporarily acting as allies doesn't undo the years of hatred between them, and some kind of redemption arc for Judge would seem really forced.
The arrival of Jinbe's old crew was unexpected and fun. An interesting thing about One Piece is that it's one of the few series that can constantly utilize deus ex machina without becoming bland and repetitive. It may have something to do with the fact that all of them are character based, and at least somewhat set up earlier in the story. Oda's ability to keep perfect track of such a large cast never ceases to amaze me.
And of course, here's the Carrot appreciation corner!
OP: Chapter 898
March 16, 2018
More of Buggy's (ex?) crew. Cool, I guess. Alright, on to the good stuff.
Reiju gets a nice scene this chapter, complete with a painfully intentional shot of her ass covering a quarter of the page. Well, it was still cute to see her defending Sanji.
What else… hmm… oh, right…
THERE'S A SPECIAL GIRL!!!!! A 10/10 chapter for this panel alone.
OP: Chapter 897
March 15, 2018
I'm starting to get very sloppy with updating this. I actually read the chapter nearly a week ago, at this point another one is already about to come out...
I didn't actually realize this until somebody mentioned it on Tumblr, but if the Straw Hats reunite soon, it will be the first time we get to see them all together for like... five years. I'm upset that it took so long, but I'm also all the more excited for them to all see Sanji again.
Speaking of which, I'll join the assembly of excited fans gushing about Luffy and Sanji being cute in this chapter. Their friendship has been a really important part of this arc, so it's always nice to see.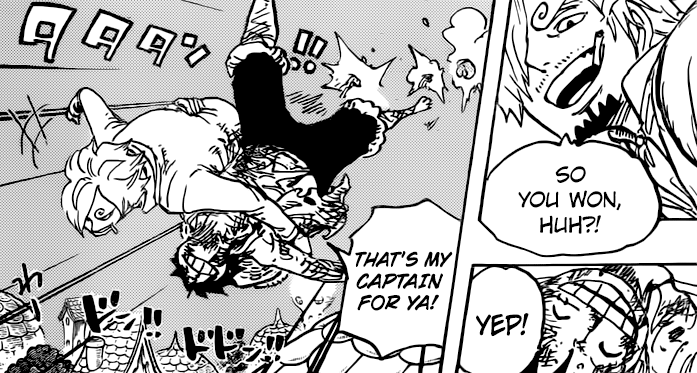 As for the Germa 66 showing up... I don't really care. I'm not a huge fan of them, as villains or allies, so their melodramatic entrance just didn't do it for me. It'd be nice to see some more cute sibling scenes between Sanji and Reiju, but I'm not at all interested in the others.
Slightly off topic, but an interesting fan theory has piqued my curiousity about Pudding's final request. The problem is, now I'll be doubly dissapointed if it ends up being something stupid.
SNK: Chapter 103
March 7, 2018
The leaks came out sooner than I expected... I suppose the fandom is nothing if not dedicated.
Unrelated to the chapter, but I'm a little pissy that so many important plot points were casually spoiled during Isayama's last Q&A event. I always think of sessions like those as a place to discuss the current character work, maybe reveal something trivial like blood types or birthdays, not to just spill a ton of valuable information. Eren's injuries being self-inflicted, the growing theme of memory inheritance, these are plot points that should actually be addressed in the story. Revealing them like this... makes them seem unimportant, and they're not.
Okay, on to the main point... PIECK!! SHIT! I'm holding out hope that she's okay; it's very hard to tell with titan shifters, because it's completely possible that her main body has remained uninjured despite her titan's head being crushed in.
It's really fascinating to see these characters that we've known for so long placed in the position of the villains. One of my favorite things about the series is that it really does lack a clear line between good and bad; from the perspective of the survey corps, the Marleyans are definitively the bad guys. But now we've seen this entire arc from the perspective of the Marleyans, where the opposite is true. All I can really do at this point is hope that my faves from both sides don't die.
I've gotta be honest, I didn't even notice Armin was in this chapter until someone pointed it out in a thread. I'm glad to see him I guess, but he's never really been my top priority in terms of plot.
Yotsuba&!: Chapter 101
March 4, 2018
And so the lunch trilogy comes to an end. I'm looking forward to hopefully seeing Koharuko again in the future.
As usual, Yotsuba's expressions are gold.
Fingers crossed that we'll see Yotsuba's grandma again soon!
My favorite part of the chapter was the escalator scene.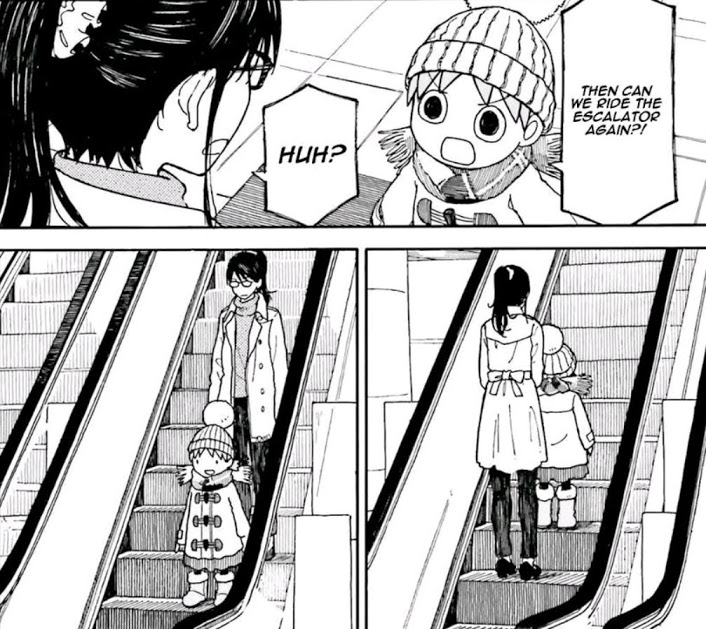 OP: Chapter 896
March 2, 2018
Finally, the fight ends... everyone has been talking about how "epic" this fight was with Katakuri, but I found it incredibly dull. I'm just glad to get a chapter that's at least somewhat plot-based.
I really hope that Pudding's final request isn't something stupid like a kiss or whatever. This is her last chance to redeem herself!
Dunno how I feel about Pekoms. He's not a bad character or anything, he's just kind of... there. And the whole "I came back disguised as a new person" thing was way funnier when Usopp did it. At least it looks like it will be short-lived, especially if even Luffy recognized him.
Tiny Carrot!

OP: Chapter 895
February 16, 2018
It's Buggy! I have mixed feelings about his character, but it's always good to see a familiar face.
I don't really care about fighting, so I pretty much just skimmed this chapter. I'm used to One Piece's overly drawn out fights at this point, but it's still irritating to have so many chapters lacking in plot. Plus, now there's a two week break...
OP: Chapter 894
February 14, 2018
So great to see Rayleigh again, even if it's just in a flashback. He's one of my few favorite characters who's actually still alive.
I'm honestly much more interested in the plights of the crew and Big Mom than with Luffy and Katakuri's battle, so I'm glad that we got more of them this chapter.
Chiffon's friendship with Nami remains adorable. It's so cute that she cares so much about Nami's safety after knowing each other such a short time.
And of course, most importantly… Carrot is awake again!
SNK: Chapter 102
February 7, 2018
Wow... what a chapter!
MORE POST-TIMESKIP DESIGNS! My favorite one to see was Sasha's, she's one of my favorite characters and I like her new hairstyle. Seeing Connie and Jean was great too.
So... I guess Levi doesn't get a new design? I guess that makes sense, I mean, he was an adult from the start, but I'm still a little disappointed.
I'm glad that Mikasa addressed how out of character it was for Eren to kill civilians. Hopefully we'll get some more explanation on that instead of the conflict just being abandoned.
I'm holding out hope that the warhammer titan doesn't die, if only because I want more female titan shifters. I'm not sure how likely her survival is though, she's already almost died like eight times.
My main concern is probably Pieck; I'm glad to see her fighting, but I'd be really upset if she were to die.
And the next chapter is coming in... April. Damn!
Yotsuba&!: Chapter 100
February 4, 2018
The 100th Yotsuba&! chapter! It's good to know that after a hundred chapters, it's still one of my favorite manga ever.
I'm glad that Yousuke and his sister have such a fun relationship. Sometimes adult women in fiction fall into the trap of being the boring by-the-book types, solely to act as the foil to the immature men, but Koharuko is as delightfully silly as her brother.
I'm a pretty big fan of detailed drawings of food in manga, so this was a fun chapter for me. Those deserts looked especially decadent.
My favorite part of the chapter was probably all of the facial expressions Yotsuba made while eating. What a cutie!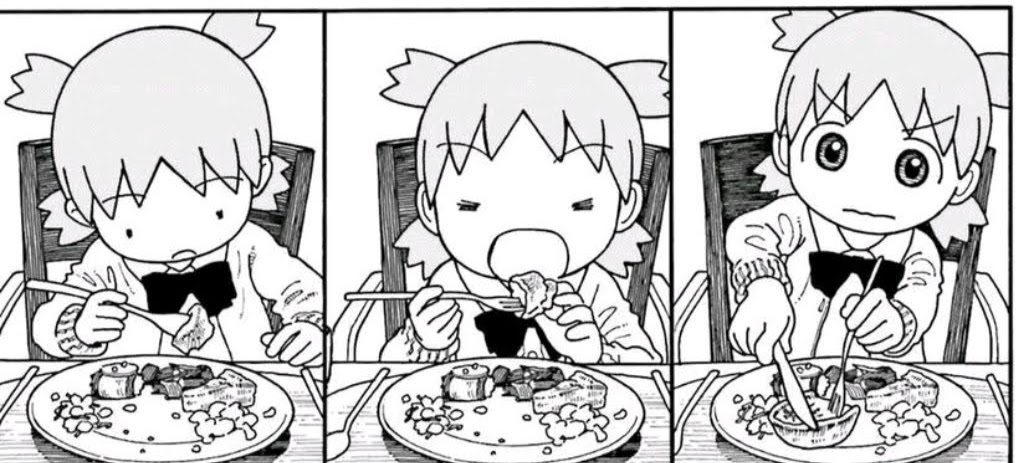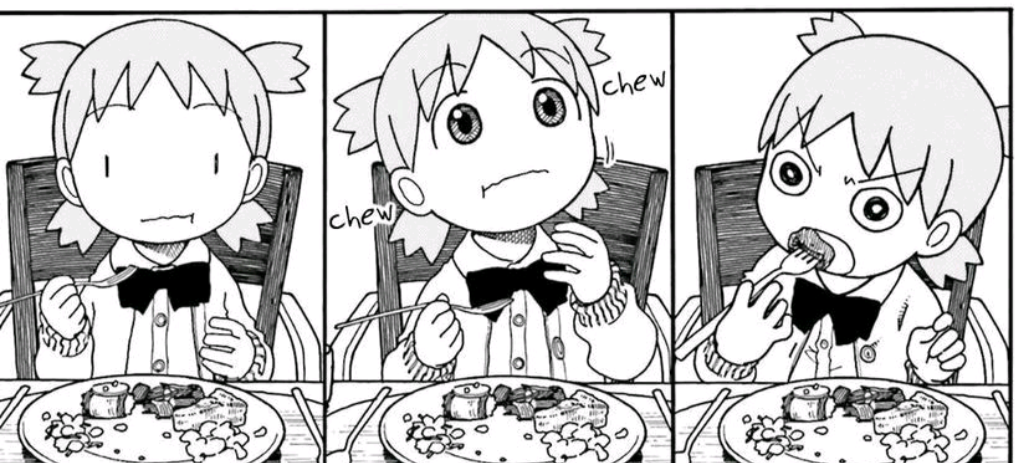 OP: Chapter 893
February 2, 2018
Uh… okay. A thoroughly underwhelming chapter. I don't even have enough to say about it to use my usual bullet-point format. The dumb "drama" between Flambe and Katakuri is just that, it doesn't seem to contribute to the plot or show any signs of overall relevance, it's as if it was just kind of shoved in there to procrastinate. I just want Luffy to beat Katakuri already so that we can get back to the important stuff.
OP: Chapter 892
January 26, 2018
Despite having no particular attachment to Leo or the Tontattas in general, this has been my favorite of the cover series so far. The Usopp ship is hilarious.
So, Sanji is officially back to being a total womanizer for laughs. I can't say I expected any less, but I'm still a bit disappointed that this experience with Pudding hasn't amounted to anything at all. Shouldn't he still be heartbroken, or at least confused?
Cinnamon's design is cute I guess, it reminds me too much of Vivi's though. And her legs look abnormally long, even for One Piece.
I think it's sweet how even though it was initially presented as a political marriage, Chiffon and Bege clearly love each other a lot and have a healthy family life… it's funny that Bege of all people would end up as a doting father and husband.
Wow, one whole Carrot panel! Better than last week, but couldn't they have shown her face?
SNK: Chapter 101
January 16, 2018
Look who finally caught up with the manga! This is my first time in a while trying to work with a series that updates irregularly (i.e. less regularly than One Piece) and I'm really hoping that using this journal as a tool will allow me to keep track of what's going on. I really enjoy this series and I'd hate to fall into another pattern of relying on spoilers to keep me caught up. Anyway, I know that this chapter was kind of a big deal for everyone who's been caught up for a while, but since I read it today along with 10+ other chapters, I'm having a hard time keeping it separate from the previous couple in my mind. Basically, I've just been really happy to see Eren back, and I really like the direction Isayama is going with his character. People don't seem to like Eren compared to the other members of the main cast, but he's one of my favorites! I think he's very underappreciated.
On the other hand, I often find Mikasa to be almost *overappreciated*, but I still like her, and was really glad to see her again. I hope her hair actually looks like that and it's not just tucked into her jacket or something, because it's a good look for her.
Finally, I was admittedly pretty upset to see Zofia and Udo die. They were minor characters, sure, but I liked them! Well, as long as Pieck survives, I guess it's okay. She's currently my favorite side character, and I think her brief appearances were the only reason I didn't fall into a lull at the start of the Marley arc.
OP: Chapter 891
January 12, 2018
Another chapter, finally! Wait... another two week break?! Come on Oda, I'm dying here!
What, no Carrot? Okay yeah, she's sleeping, but I'm still disappointed.
Always nice to have a new Charlotte sibling. Flambe isn't grabbing me so far but at least she's increasing the family's age spread.
I know I'm preaching to the choir, but I also dislike the direction Pudding's character is going in. The way I see it, the best case scenario would have been for Pudding Original™ to elope with Sanji and give the Straw Hats some better gender balance. But then they made her evil and I thought well okay, at least she can be a quality female villain. But now Oda is doing the Viola thing where she's like half villain half love interest, depending on what's convenient. What a shame, she was so likable at first.
The best part of the chapter was the wedding cake. It looked quite scrumptious.
Okay, so these last two chapters have admittedly fallen flat after the awesomeness of Carrot in 888/889. It's not that they're bad, it's just that Carrot was so good! Hopefully she'll wake up soon and get me excited for updates again.